Exploring Types of Buddhist Meditation and Spiritual Benefits of Meditation
In the fast-paced world we live in, finding moments of peace has become essential for our well-being. Meditation offers a path to inner serenity and self-discovery. In this blog, we will delve into the 10 benefits of meditation, focusing on the spiritual journey with Buddha statues. From types of meditation to the wisdom of the Buddha, let's explore how meditation can elevate our spiritual growth.
Types of Buddhist Meditation
Buddhist meditation techniques offer diverse approaches to attaining mindfulness and enlightenment. From the Vipassana meditation, emphasizing insight and self-awareness, to the Metta meditation, cultivating loving-kindness and compassion, each type of Buddhist meditation provides a unique path to inner peace and self-realization.

Spiritual Benefits of Meditation
Enhanced Self-Awareness: Meditation enables us to observe our thoughts and emotions without judgment, fostering a deeper understanding of ourselves.
Reduced Stress and Anxiety: Regular meditation practice calms the mind, reducing stress and anxiety levels, and promoting a sense of peacefulness.
Improved Focus and Concentration: Meditation enhances our ability to concentrate and stay present at the moment, leading to increased productivity and mindfulness.
Heightened Emotional Intelligence: By cultivating self-awareness and empathy, meditation enhances emotional intelligence and enriches our relationships.
Increased Compassion: Practices like Metta meditation instill a sense of compassion, not only towards others but also towards ourselves.
Spiritual Growth: Meditation facilitates spiritual growth by deepening our connection with the divine and inner wisdom.
Stress Relief: By releasing tension and negative energy, meditation offers effective stress relief, promoting physical and mental well-being.
Improved Sleep Quality: Regular meditation can lead to better sleep patterns, aiding in restful and rejuvenating sleep.
Mind-Body Harmony: Meditation promotes harmony between the mind and body, encouraging holistic healing.
Heightened Intuition: As we quiet the mind through meditation, our intuition becomes sharper, guiding us toward better decision-making.
What Buddha Said About Meditation
The wisdom of the Buddha emphasized the transformative power of meditation. He taught that meditation is a path to enlightenment and liberation from suffering. The Buddha encouraged a mindful and compassionate way of life, rooted in meditation practice to attain spiritual awakening.
Conclusion
To deepen your meditation experience and spiritual journey, Puja N Pujari offers a beautiful collection of Buddha statues. These exquisitely crafted statues evoke a sense of serenity and inner peace, creating a sacred space for your meditation practice. Embrace the 10 benefits of meditation with Puja N Pujari Buddha statues as your guiding symbol of wisdom and enlightenment. Begin your journey towards spiritual growth and self-discovery with the divine presence of Buddha statues, available at Puja N Pujari.
Frequently Asked Questions
How to meditate spiritually with God?
Ans: Meditate spiritually with God by focusing on divine qualities, chanting sacred mantras, and surrendering your thoughts and emotions to the divine presence.
How to do meditation to connect with God?
Ans: To connect with God through meditation, practice mindfulness, engage in prayerful contemplation, and seek a deeper connection with the divine within yourself.
Is it possible to see God by meditation?
Ans: While you may not physically see God through meditation, you can experience a profound spiritual connection and feel God's presence within your heart.
How do I connect with God spiritually?
Ans: Connect with God spiritually through regular meditation, prayer, and seeking guidance from spiritual texts and teachers to deepen your spiritual journey.
Why do we meditate every day?
Ans: Meditating every day promotes inner peace, reduces stress, and enhances spiritual awareness, allowing us to experience a closer connection with the divine.
What is Buddha's meditation?
Ans: Buddha meditation involves practices like Vipassana, Metta, and Anapanasati, focusing on insight, compassion, and breath awareness for spiritual awakening.
What are the 3 types of meditation in Buddhism?
Ans: The three types of meditation in Buddhism are concentration (Samatha), insight (Vipassana), and loving-kindness (Metta), each serving a specific purpose in spiritual development.
Summary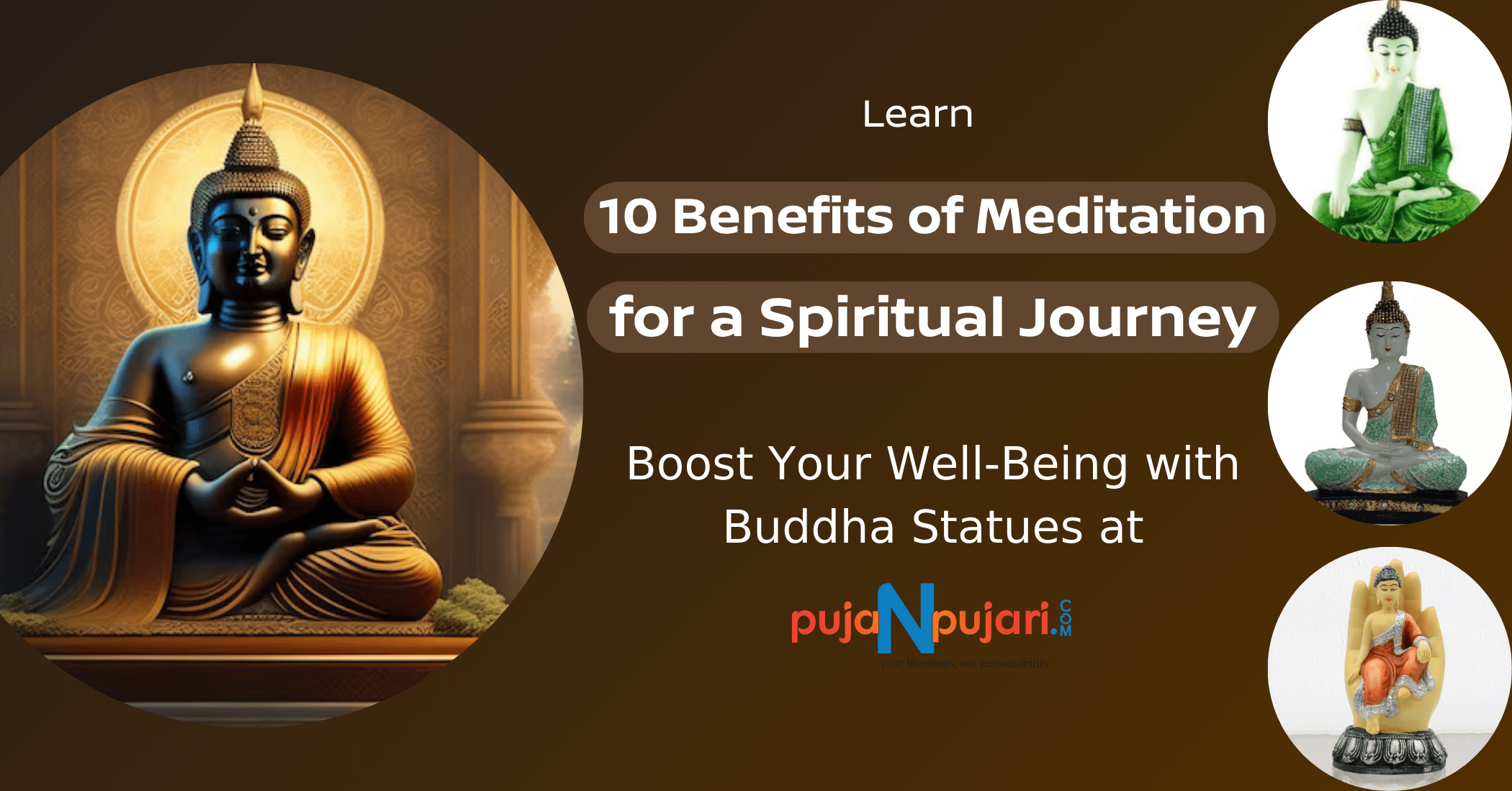 Article Name
10 Benefits of Meditation for a Spiritual Journey: Boost Your Well-Being with Buddha Statues
Description
Discover the 10 benefits of meditation for spiritual growth with Buddha statues. Embrace serenity and mindfulness with Puja N Pujari's divine collection of Buddha statues.
Author
Publisher Name
Publisher Logo