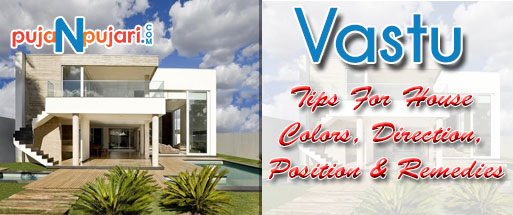 Published By : Madhav
Updated On : 12/02/2019
Published On : 30/01/2019
Vastu Tips for House: Direction, Color, Position & Remedies
Vaastu Purush is considered as the God of Vaastu and before constructing a house one should always consider vaastu shastra experts because it has negative and positive effects on each individual. It helps in deciding the shape, size, direction and position of each of the structure of the house and keep us away from any future difficulties. It also keeps us positive and calm. Our pujanpujari team of astrologers are highly experienced and qualified. They can be booked from our website for any suggestions at an affordable rate. Some common tips on vaastu of house is already mentioned here and for any further help kindly book an appointment. We provide dedicated services for each of our individual customers.
Main door of the house must face towards north, east or north east.
Do not keep dustbin or shoe rack outside the main door.
Bathroom should not be near to the main door
Living room should always be in north or north east or north west.
Southwest and west direction of a living room should have heavy furniture's.
It is advised to keep north east direction of the house to be clean and clear.
Its also suggested to keep water in north east of your house.
Puja room must be there in the house and one must face towards north east direction while doing any puja.
Water paintings or any poster of water should be placed in the North eastern wall to attract wealth and prosperity.
Always open the main door of the house inside the house itself.
Always place Lord Ganesha pic or idol at the top of the main door.
One should not put broken idol or photo frames in the puja room.
A kitchen should always be in the ishan kon or south east.
As said, do not place any god's picture or frames in bedroom or children room except Lord Krishna and Radha's.
As per sayings we should not put any water oriented showpiece or items outside the main door of our house.
Black color is said to be inauspicious so it is also said that we should not paint main door of our house with black color.
Always keep the brahmasthan of your place as empty and clean since it is a place of God.
Many more vastu shastra knowledge and astrological assisstances are required while constructing a new house which can be solved by consulting a vaastu shastra or an astrological expert.
Other Vastu Related Articles
Vastu Tips for Shop
Vastu Tips for Plots
Vastu Tips for Office
Vastu Tips for Bedroom
Vastu Tips for Kitchen
Puja N Pujari has tie-ups with famous vastu experts all around India. Call us on - +91 9916344447, +91 7406666730
swetha18/03/2019 8:15:46 AM

Which side should house entrance face?

sudha01/03/2019 3:37:18 PM

The main door of your house should be bigger than any other door of the home. The main door should open in the clockwise direction and it is better to have the main door in two parts instead of just one.

reena28/02/2019 8:23:10 AM

Is west facing plot is good for house?

priya26/02/2019 8:48:11 AM

facing north is growing wealth and prosperty

deepu18/02/2019 2:55:20 PM

What are some of the Vastu tips for home?

admin16/02/2019 2:11:21 PM

Considered as the "archway to victory and progress in life", the main door should face north, east or in the north-east direction. It must be constructed in a way to ensure that when you step out, you face the north, east or north-east direction.

admin12/02/2019 9:37:47 AM

Main door is an important element in Vastu. All the doors especially the main door should open inside so that the energy remain inside. Also, do take care that the hinges of doors should not make noise. Grease them periodically to keep them noise-free.

admin08/02/2019 11:21:13 AM

The north east direction is the most auspicious one in Vastu. This direction is associated with god and piousness. Hence, it should be kept free from any interference, including the TV, so that the positive vibrations are not hindered. Learn how you can bring in the positive energy of money with Vastu.

admin06/02/2019 12:49:54 PM

Hi anitha , Yes its affect to everyone. Men and women have different energies and hence vastu will act – or affect – men and women (in the same house) in a different way. ie. if there's a water body in SE of the house, then, it'll adversely affect the female of the house (she'll have temperament issues, medical issues & more).

deena06/02/2019 12:35:52 PM

A house is not a home unless it contains food and fire for the mind as well as the body.

anitha05/02/2019 7:28:33 AM

Does the effect of vastu differ for men & women?

ajay kumar05/02/2019 7:12:17 AM

Are there any vastu tips for placing a office for working in home or will it be opposing to vastu shastra to place a office in home?

Avinash01/02/2019 3:24:26 PM

These are simple and free to implement vastu tips for home.

sanjay31/01/2019 8:56:21 AM

Nice blog..you have any vastu analyst ?so that we can clear doubts regarding vastu of complete home..

priya31/01/2019 8:52:08 AM

where we can keep fridge and Tv in home? which is best place to keep cubboards?

Hema31/01/2019 8:05:42 AM

Hi, I am planning to keep Sofaset in home, where I want to keep that sofa ...please suggest me.