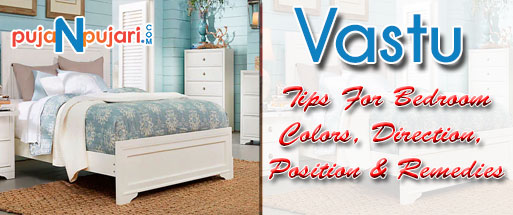 How To Design Bedroom Accroding to Vastu Sasthra?
Bedroom is one of the most important place in any house as it is a place to relax and rest and one of the most important requirement of this room is privacy. Bedrooms are basically said to be inhabited by married couples so one must be very conscious while deciding the shape, size, direction of all the items placed in that room. Vaastu shastra provides a wide knowledge on this which can be referred before you go for interior designing. We are providing some basic knowledge here which one can prefer:
Master bedroom is the main room of a house and it must be occupied by head of the family. This is a room which should always be bigger from other rooms of the house.
Most preferred direction for master room should be South-West as it provides strength to the head of the family.
Another important aspect about this room is the direction of the bed placed inside it which should also be in the south, west or south-west.
Bedrooms should always be kept empty and no trash or any other useless items should not be placed in this.
A bedroom should always have one door and the door should not directly be in front of the bed.
Bathroom should not be constructed in front of the bed and their doors should always be kept closed.
It is advisable not to place mirrors in front of the bed, it radiates back negative energy.
Always switch off the TV or computer at night, they emit radiations.
While sleeping one should not place his/her legs towards South or South-West as its totally not recommended and causes sleeplessness.
Always place your dressing table in North or East wall.
A bedroom in the west can be used by children whereas if a bedroom is in the East direction then they must be used by unmarried children or guests.
Many more guidelines are there which should be kept in mind before inhabiting in bedroom. Book our astrologers and vaastu shastra experts for detailed knowledge regarding this. We provide all round solutions for your doubts and concerns.
Other Vastu Related Articles
Vastu Tips for Shop
Vastu Tips for Home
Vastu Tips for Plots
Vastu Tips for Office
Vastu Tips for Kitchen
Puja N Pujari has tie-ups with famous vastu experts all around India. Call us on - +91 9916344447, +91 7406666730
Naveen30/01/2019 8:28:39 AM

Where should the reading table be placed in the bedroom?

rahul31/01/2019 9:05:49 AM

i have doubt regarding in which direction we need to arrange beds in north facing bed rooms:?

suni31/01/2019 9:07:50 AM

dressing table where we can fit in bed room? because i listened that when we wake up ,we should not watch our face in mirror? is this true.

renu05/02/2019 7:34:20 AM

I've heard that there're some vastu rules for pregnancy. Is it true; if yes then what are they?

Jaysree05/02/2019 7:51:21 AM

Is there any vastu tips for placing the electronics items like Tv, Ac, etc?

ritu08/02/2019 11:38:22 AM

Hi, Glad to found it helpful.I look forward to hearing much more from u.

guna11/02/2019 2:57:57 PM

Should we really trust vaastu shastra?

admin12/02/2019 9:50:12 AM

If you have a beam running inside the room wall, take care that the bed should not be placed under the beam. This arrangement is bad for health.