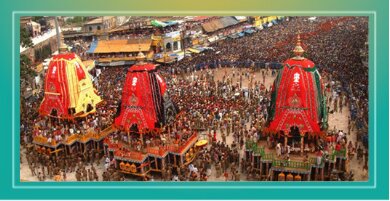 Rath Yatra Date 4th July 2019 : Celebrations, Specification of Chariots and Rituals
India is a country of cultures and traditions which dates back to centuries. Be it Holi, Diwali, Chath or anything the uniqueness lies specific to the area and their residents and when you are in Odisha how can you miss the most reverberated "RATHA YATRA".
Odisha is the city of temples and "PURI" is very famous as one of the four char dhams of India. It is believed that Lord Jagannath resides in this place. Whole year many festivals are celebrated in the premise of great jagannath temple and RATHA YATRA is the most special one.
Puri Jagarnarh Radha Yatra Dates
It is celebrated on Ashadha Shukla Paksha Dwitiya every year and this year it falls on 4th July 2019. As earlier this year also everyone will celebrate the festival with huge folklore and same fervor because not only in India rather in Dublin, New York and many countries also it is celebrated with same enthusiasm.
Rath Yatra Celebration
Rathha yatra marks the resemblance of lord Jagannath's childhood days with his sister Subhadra and elder brother Balabhadra. The celebrations of Ratha Yatra starts with "Devasnana Purnima"and as per the rituals, the idols are taken to their aunt's temple with huge procession and folklore's.
Chariots
The festival of Ratha Yatra got its name from the chariots on which three deities are taken to their birth place or Gundicha temple in huge processions.
Specifications of chariots
Three chariots are made every year, each for Lord Jagannath, Devi Subhadra and Lord Balabhadra.These chariot making starts from the day of "Akshay Tritiya" which was celebrated on 7th May this year.
The chariot made for Lord Jagannath is called as "NANDIGHIOSHA".
Height - 45.6 feet
No of wheels - 16
Side deities - MADANMOHAN
Fabric Colour - Red and yellow
The chariot of Lord Balabhadra is called as "TAALDHVAJA".
Height - 45 feet
No of wheels - 12 wheels
Fabric Colour - Red and green
Side deities - SMALL RAMA & KRISNA
Third chariot is made for Devi Subhadra and is called as "DEVADALANA". Its height is 44.6 feet and consists of 14 wheels.
Height - 44.6 feet
No of wheels - 12
Fabric Colour - Red and black
Side deities - SUDARSHAN
Each of the chariot carries some other deities and in total there are seven deities who travels around the city. Huge population comes to pull the rope of these chariots on ratha yatra to welcome the lord and accompany him to Gundicha temple. The deities retire in gundicha temple for 7 days and have good food from their aunt's. After a week long stay the deities are brought back from Gundicha temple to Jagannath temple and on its way the deities also visits their aunts temple also known as "ARDHA SANI TEMPLE" or "MOUSI MAA TEMPLE".
Rituals of rath yatra
Devasnana Purnima / Snanayatra - 17th June (Monday)
Devasnana Purnima / Snanayatra is celebrated on "jyesthapurnima" and on this day the idols of lord Jagannath, Devi Subhadra and Lord Balabhdra are shaken from the "Ratnasimhasan" or the seating place of the temple and kept on "Snana Bedi" followed by huge crowd and processions.
Bathing of the deities is done through 108 pitchers water of the well present inside the temple premise.
Bathing ceremony is followed by many cultural events:
Sada Besha - The deities are dressed up in clothes without much jewelleries just after the bathing ceremony.
Hathi Besha - In the noon time, the deities are decorated like Lord Ganesha and is called as Hathi besha.
Sahanamela - In the evening the deities are kept for the people who wishes to get a glimpse of the Lord's Idol.
Ansara Period - After Devasnana the deities are kept in "Anasar" house for 15 days which is also known as "Anavasara Period" as Lord Jagannath goes missing from the normal view of his followers.
Nibhrita - This marks 15 days isolation of Lord Jagannath from the whole world and his wife Goddess Lakshmi. In this period he is being taken care of by his servants "Dayita". 15-Days periods ends just a day before Ratha Yatra.
Nava Yauvana Vesha - It is assumed that after having bath the idols becomes dull so they are painted again by his servants (Deyitas) and being decorated with fresh clothes, flowers and garlands. This new look of the deities is known as Navyauvana vesha.
Netrotsava - Netrotsava festival signifies the invocation of Lords eyes where the deities idols are kept inside the temple in semi-horizontal position. The temples main pujaris and purohits together paints the eyes of the lord and this is the last ceremony to be held before starting the ratha yatra. After performing Netrotsava ritual, the idols are kept in their respective chariots along with their respective side deities.
Placing the idols on Chariots
The chariots are kept at "Singha Dwar" of the temple facing towards the North direction.
Sudarshana is first kept on the chariot of Devi Subhadra.
Lord Balbhadra being eldest in the family is kept first in his chariot.
After Balbhadra, devi subhadra is kept in the chariot.
At last Lord Jagannath is kept in his chariot.
PAHANDI - It is one such ritual when Lord Balbhadra and Lord Jagannath's idols are swung in to air in forward and backward directions before placing them inside the chariot.
Beginning of Ratha Yatra
The chariots of the deities proceed towards Gundicha temple where Lord Balabhadra and Devi Subhadra proceeds directly to the temple but Lord Jagannath stops over at "Mausi maa" temple to have a special regional desert called as "Podo pitha" from the hands of his aunt and again proceeds further.
All three deities remain at Gundicha temple for 7-days and is served with specially made sweets and prasadas.
Bahuda Yatra - After 7 days the deities are kept back into the chariots and taken back to the main temple with a huge processions and disciples.
For whole night the deities spend their time on chariots itself.
Suna Besha
Suna Besha is an oriya word which signifies the sparkling golden beauty of the deities. It is celebrated on "BADA EKADASHI" and marks the ending of Ratha Yatra celebration when the deities are decorated with Gold made arms and feet along with beautiful crowns and other ornaments. The decorated idols are kept outside THE MAINTEMPLE for people to get the beautiful view. This is a very auspicious occasion and witnessing this blesses one with immense strength, power, happiness and prosperity.
Facts about Ratha Yatra
A tala fruit is placed on the top of the chariot of Lord Balabhadra.
A kalash is always placed on the top of the chariot of Lord Jagannath and it should not be changed ever.
It never rain on the day of Ratha Yatra despite being a rainy season.
While moving Lord Jagannath's chariot for the first time, the chariot wont move but after sometime it automatically starts moving.