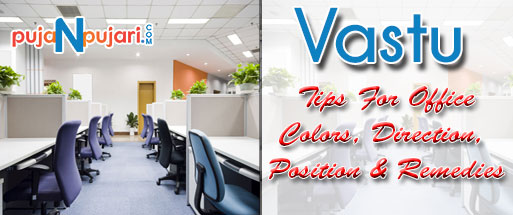 Vastu Tips for Office: Direction, Color, Boss Cabin, Position & Remedies
Every business thrives on finance and quality of work to be done by its employees and its very necessary to keep the office environment positive and peaceful. It is always advisable to consult a purohit or a vaastu shastra expert before buying a plots for an office purpose or while constructing it. Any construction whether it is a house or an office is directly related to its directions and locations which is the deciding factor of health and wealth of that place. Like we take care of these mythological things before constructing our house, we should also take care for our office business areas and buildings.
Some rules and regulations are mentioned here which should be taken care of before building a office:
While thinking of office area first things which comes to your mind is the plot, which plays an important factor both mythologically and financially. Financially when we see, it should be in the area where you will easily attract businesses and customers and it should be on highly operational roads or highways and mythologically when we see then one thing which is very significant is Vaastu shastra. So, as per vaastu shastra, always buy the plot of SHERMUKHI TYPE, which is broader from the front and and narrower from the back.
We should also prefer square shaped or rectangular shaped plots which is considered to be most preferable for office locations.
Accounting professionals should always sit in the South-east direction so that they can face in the north east direction of the office area. It ensures wealth to the company's balance sheet. Similarly, important files and papers should also be kept in the same directions as well.
It should always face North, North-West or North-East directions.
It is suggested that the mid part or central area of the office should be empty so that it gives a positive vibes to the customers as well as it also provides positiveness to the office owner.
It is also being said that one should always free the North-West direction of their office and strictly no toilet should be built in this direction. It is the financial direction which ensures financial security to any office.
If one believes in Fengshui, try to keep one aquarium with nice gold fishes and one black fish in the North east direction of your office. It yields very nice results in terms of the growth and development of your office.
With respect to the company's owner, he or she should always face towards North while finalizing any deal. It increases the chance of success and thus yields prosperity to the company.
Marketing professionals should be made to sit facing North-west direction which helps to keep their mind active as are the driving force in taking your company to a new height.
Another important aspect in terms of the boss or the owner of the company is that their working tables should always be rectangular in shape and size.
Despite providing a comfortable work space, employees should not be allowed to sleep in the office as it attracts negative forces to the office.
Beyond the above mentioned some more vaastu shastra specifications are specified by the vaastu shastra science which can be look into through our online platform. We pujanpujari is providing astrological assistance for all types of Vaastu shastra related queries. Log in to our website and book your astrologer at an affordable rate and preferred time.
Other Vastu Related Articles
Vastu Tips for Shop
Vastu Tips for Home
Vastu Tips for Plots
Vastu Tips for Bedroom
Vastu Tips for Kitchen
Puja N Pujari has tie-ups with famous vastu experts all around India. Call us on - +91 9916344447, +91 7406666730
Vishnu Mohan30/01/2019 8:40:32 AM

Is planting a tree or a plant in the center place of the office is a good thing? if it's good than where exactly should a tree or plant be place or planted in the office?

Manoj30/01/2019 4:20:02 PM

What vastu points should be considered while placing desk in office?

leela31/01/2019 9:09:56 AM

in office which direction sitting is good for successful career? could you suggest me?

Nirmal Deb05/02/2019 8:01:13 AM

Is there any solution or puja if the office is opposing vastu shastra to make it rite??

Puja N Pujari12/02/2019 9:53:16 AM

Hi Manoj, Thanks for spending time with us .According to Vastu Shastra, the main door or entrance of the office building should face east or north direction. Do not place anything that creates obstacle close to or in front of the main entrance

nithya16/02/2019 2:20:46 PM

The living room should face east, north or north-east. Alternatively, a north-west-facing living room is also favourable.

lavanya18/02/2019 2:56:31 PM

What is bookshelf placement as per Vastu?