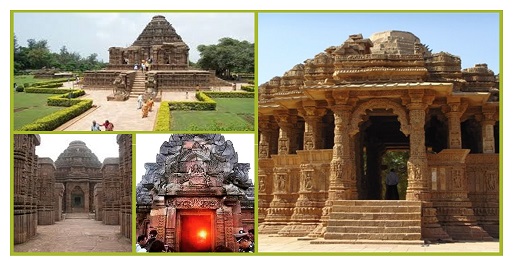 Seven Famous Sun Temples In India | Suriyanar Temple | Konark
India is a country with lots and lots of tourist's destinations which attracts the tourists from all over the world but beyond these attractive destinations our country is also home to lots and lots of architectural and cultural heritages as well. Lakhs of tourists visit these heritages every year. Among many such some special ones are the seven sun temples of India. Sun temples made thousands of years back were constructed by our ancestors and holds special significance. These sun temples are dedicated to the Lord Sun who is worshiped by each and every Indian every day.
Bhramanya dev temple - Unao - Madhya Pradesh
Famous sun temple at unao is dedicated to surya dev whose idol was diged from the ground as per the dream of the king who ruled that place centuries ago.
This temple is famous for a belief to cure all kind of skin aliments who so ever visits the temple. This temple is also famous for the idol itself as it is wrapped with 21 triangles representing all the 21 phases of the sun.
Sun Temple - Surya Prahar - Assam
This sun temple is located on a hill in surya prahar assam and is house of special idol and more than 10,0000 shivalingamse. This is a famous tourist destination.
As being said the place surya prahar was designed by Lord Brahma himself and was known as Pragjyotisha at that time. The main attraction here is four and half feet diameter circular tablet. This tablet is full of en carved images of god and all our celestial bodies.
Suryanar temple - Kumbakonam - Tamilnadu
Dating back to chola period this temple was built by the chola kings. This is the only temple where god suryanarayana is being worshiped. The idol of the God is present with other celestial bodies.
One speciality of this temple is that the lord brihaspati is seen worshiping lord suryanarayana by sitting in front of him. It's a belief prevalent here that whosoever visits this temple and perform the puja as per the rules he gets rid of all shani side effects and achieve success in his/her life.
Suryanarayana swamy temple - Arasavili - Andhra Pradesh
Dating back to 7th century this temple was built by kalingas and the king himself and the idol was installed by the sage Kashyapa. The image of the Lord Suryanarayan swamy is inscribed here on a tall granite piece. This temple is uniquely designed in such a way that the sun ray touches the feet of the idol twice a year. This rare incident occurs in March when the sun moves from "uttarayan" to "dakshinayan" and again in October when the sun moves from "dakshinayan" to "uttarayan".
Sun temple - Konark – Odisha
It is one of the most famous temple in India which is dedicated to Lord Surya. It's in the konark district of Odisha and is famous for its architectural excellence. This temple was built in 13th century and till date people are mesmerized by its scienic beauty and scriptures. The whole temple structure resembles a chariot. It is already being declared as world heritage by UNESCO.
Sun temple - Ranchi – Jharkhand
This temple is situated at the Ranchi Jamshedpur highway. Despite not being very big in architecture people beliefs are very much prevalent with this temple. Here the temple entrance consists of seven horses tied with string and isbeing driven by Lord Surya. This temple is a must visit place by any one crossing from this place.
Sun temple - Martand– Jammu Kashmir
This temple was built back in 725-750 CE and is dedicated to Lord Surya. It is widely spread across a large area with peristyle architecture. Peristyle srchitecture is very difficult to find in today's works. Main shrine of the temple being in the centre is surrounded by 84 other shrines. This is a magnificent example of our ancient past but was being completely vandalised by a Muslim ruler sikander and is still in the same half vandalised state. People visit this temple to witness the ancient architecture and to pray the God sun.
keerthi07/02/2019 2:54:26 PM

Who built the Konark Sun Temple?

yadika11/02/2019 2:56:37 PM

Light and sound show for the temple is open from 6 am till 8 pm, we plan to run the 40-minute show between 7 pm and 8 pm. The light and sound show will be on daily except during the rains, another officer said. Around 250 tourists will be able to watch the show together.

admin12/02/2019 9:28:54 AM

Hi Keerthi, Thanks for your valuable time spending and visiting our blogs.Hopefully you had a informative content on blogs. The 13th-century famous Konark Sun temple was built by King Narshimhadeva I (of the Eastern Ganga dynasty) at Konark, Odisha around AD1250.

pooja16/02/2019 2:07:11 PM

How many times should we do Surya Namaskar in a day?

admin18/02/2019 2:36:58 PM

The Suryanarayana Temple in Domlur is one amongst the very few Sun God Temples in India and it is located in Bangalore city.

puja26/02/2019 8:43:38 AM

Which of the following are famous for sun temples?

Narashimha13/03/2019 1:15:12 PM

Nice blog post. These are famous temples across india. Once I visited most popular the Sun Temple .There was some more interesting facts about the temple.The sun idol used to in air due to magentic effect.The first ray of sun used to fell rightly in the feet.

Suresh22/04/2019 11:21:48 AM

What is the best time in the year to visit Konark temple

Sujit22/04/2019 11:24:18 AM

Do you think all the ancient sun temples in India are destroyed?

Suresh25/05/2019 12:10:05 PM

Very holy place. Main god in garba graga is lord sun surrounded by other planets. Temple surroundings also very good and all puja shops also very near.

Sandhya27/05/2019 10:33:59 AM

Surya pahar temple is one of the famous sun temples in india. This is the place find our ancient culture of india. Very nice place and must visit once.

Ranjitha28/05/2019 3:06:46 PM

Suryanarayana swamy temple more divine place from the ancient era.. The temple surrounding environments also very nice. It is most ancient surya temple in India and very powerful...

Kruthika29/05/2019 2:28:09 PM

We enjoy most in this place. We feel the environment here was very spiritual and most blissfull.All over the world the devootees come to this place to know the history of the this konarak sun temple in Odisa. The sourroundings of the temple also very nice and clean.

Renuka03/06/2019 10:23:41 AM

The Sun temple in Ranchi is very famous place. The temple surroundings cover with full of trees and hills. It is one of the most visiting place for Hindu devotees.

bhagya 04/06/2019 5:17:52 PM

The Martand temple was located in very high place top of the plateau where we can view the entire kashmir valley. It was most famous sun temple in Kashmir.Great experience.

Yashavanth 06/06/2019 5:26:28 PM

It's a most historical place in India. Here you see the old ancient architecture of the temple. Every year many people come to this place to visit the Surya Pahar Temple.

Prakash. H11/06/2019 5:19:37 PM

The temple was built in long time ago with good architecture . The environment was very nice and more spacious . Every time we feel more positiveness and peaceful when visiting the Suryanarayana Swamy Temple.

kishan kumar12/06/2019 9:59:39 AM

Konark Sun temple is one of the famous temple of Odisha. It was most famous ancient sun temple in India. The great architecture & design work of temple represents the skills of odisha people. Good place and nice environment.