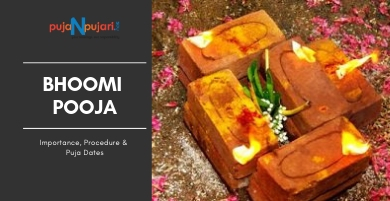 Bhoomi Pooja: Importance, Procedure and Vastu Dates for Construction 2019
Bhoomi puja or Bhu Puja is a ritual performed before constructing a house. Basically its a puja offered to the "Bhu Devi" or "Dharti Maa" before we start digging the plot. But the question is why and when it started? Yeah the obvious answer to this questions is "its a custom practised from long back" but how they came into existence and how they became our custom?
Book pandit with puja material for Bhoomi Puja call us on +91-9916344447
India - A Spiritual Destination
India is a diverse country with multiculturism where people believe in spirituality from the core of their heart. We worship our god in the form of stone and wooden statues and it is believed that god comes as a guest resident when "pran pratistha" is done to these statues.
This is the reason India is treated as a pilgrimage destination all over the world. Here "amarnatha gufa" is worshiped because iced shivlinga is treated as Lord Shiva and puri jagannath temple sees huge crowd as Lord Brahma himself gave the structure and texture to the deities wooden idols and many more such evidences are there which proves our beliefs and conscience on the almighty god, "Bhoomi pujan" is just an example of those beliefs.
The Motherly Earth
We Indians call our country as "bharat maa" and our land as "dharti maa". We love and respect her as our own mother and in such a country bhoomi puja is worth doing. We believe that like us she also feels the pain when the land is being dig out. May be it seems illogical to some people but my question to them is if anyone strikes him/her what is the feeling? Don't you feel the pain?
We certainly do and same applies to our Earth. Bhumi puja is performed to pay respect to our motherly Earth and take her permissions before digging the land. This puja is also performed to please Vastu Purush who is assumed to be the god of Vaastu to bless us with positivity and growth, Lord Ganesha is worshiped as he is the initiator of the world and Laxmi puja is also done to take her blessings to be healthy and wealthy in our new home.
Bhoomi Puja Procedure
As per ancient Hindu scriptures it is believed that below the earth "patal lok" is there which is governed by Sheshnag who is the server of Lord Vishnu. Sheshnag is assumed to be the saviour of Earth and so a silver snake idol is worshiped in bhumi pujan followed by "kalash puja". Sheshnag gives strength and longevity to our buildings whereas "kalash" denotes our universe in which betel nuts are kept to offer our prayers to Lord Ganesha and Goddess Lakshmi.
Bhoomi Puja Importance
When a land is being digged and construction is done it results into homelessness of many insects, animals and other creatures. To be free from their curses and also to remove their negativities bhumi pujan holds significance. In India, our farmers too offer prayers before doing cultivation on any piece of land as their gratitude to her who let them grew the crops.
Indian's may be called as superstitious and irrational but we firmly believe in our culture and traditions and this makes us class apart from all others.
Bhoomi Puja Dates 2019
The vedic new year for the calender 2019 has not begin since the mukurthas are less in the ending of 2018 of the current year in the month of febrauary and march are very less.The New year for the calender year 2019 will begin from April 15 2019.accroding to suryadasha (position of sun in zodiac sign) and chandradasha will start from 17 april 2019.
| | | | | |
| --- | --- | --- | --- | --- |
| S.no | Date | Time | Day | Nakshatra |
| 1 | 23-04-2019 | 8:54 AM - 9:30 AM | Tuesday | Jyeshta Nakshatra |
| 2 | 04-06-2019 | 9:58 AM - 10:34 AM | Tuesday | Mrigasira Nakshatra |
| 3 | 27-07-2019 | 7:23 AM - 7:59 AM | Saturday | Karthika Nakshatra |
| 4 | 23-08-2019 | 7:23 AM - 7:59 AM | Friday | Mrigasira Nakshatra |
| 5 | 28-10-2019 | 7:44 AM - 8:20 AM | Monday | Swathi Nakshatra |
| 6 | 24-11-2019 | 11:25 AM - 12:09 PM | Sunday | Chitra Nakshatra |

Book pandit to perform Bhoomi puja at Puja N Pujari
Rajesh27/02/2019 11:37:02 AM

What are some auspicious dated to perform Bhoomi puja in April?. We want to construct commercial building.

Sunil27/02/2019 2:43:53 PM

We are unable to find purohit to perform Bhoomi puja on Feb 10 2019. And some how we managed to postpone and perform the puja few days later. And here I would like to know that can any individual chant mantras and perform puja at his own place.

aarthi28/02/2019 7:30:57 AM

what is the cost of performing boomi puja?

ajay kumar02/03/2019 2:58:29 PM

So what is happens if bhumi puja is not performed before building a home.

Ravi Chand05/03/2019 1:50:09 PM

How important it is to perform bhoomi puja, before starting a construction. By little knowledge I have i'm placing my point. During the construction there are small creatures and the Bhoo Devi (Bhoomi) which get hurt. So to be free from their curses and also to remove negativities bhumi puja is done.

dina06/03/2019 2:29:04 PM

We are planning to do Boomi Puja on next month? Can you suggest what materials required for the Pooja?

Puja N Pujari12/03/2019 9:11:59 AM

Hello Dina and a very warm welcome to "Puja N Pujari". Thank you for this comment and also for following the blog, Hope you like what you read and continue visiting. .The below Pooja materials required to perform bhoomi pooja. are termeric powder,kumkum,sandal owder,incenses stickcamphor,flowers,fruits,betal leaves,cocount,kalasha vastram,rice,coins,ghee,sugarcandy,navadhanyam,neivedham as required for pooja.

sujatha13/03/2019 12:42:44 PM

Nice blog post. We want to plan bhoomi puja on april month but we don't know good authentic purohit. Kindly suggest us properly known veda pandit to perform the pooja.

Puja N Pujari18/03/2019 8:01:49 AM

hi Sujatha and a very warm welcome to "Puja N Pujari". Thank you for spending your valuable time to us and also for following the blog, Hope you like what you read and continue visiting. .we have well experienced purohits in bangalore, we provides all kinds of pujas with samagiries all over bangalore. we perform all rituals traditionally.

Suresh20/03/2019 7:19:06 AM

Hello there, for Bhoomi Pooja date in Mar-19 - 23/03/2019 - 7.58-12.09. I live in Melbourne,Australia, Timings will be the same as timezone is different?

Venkoba Rao26/03/2019 2:50:33 PM

What are the best auspicious and vastu dates for bhoomi pooja, we want to perform puja for flats construction. And we want to start before May 2019

MANJULA MANJULA. C01/04/2019 8:29:38 PM

we starting Constuction for a new house, in April 2019 so plz send 3good dates in aprilb

Puja N Pujari09/04/2019 11:34:25 AM

Hello Manjula, On 23rd April in between 8:54 AM - 9:30 AM Tuesday and Jyeshta Nakshatra will be an auspicious day to perform bhoomi puja. Hope this is helpful

Vinay11/04/2019 1:43:59 PM

Are the dates same for Telugu, Tamil & Kannada and North India states?

Ramamurthy11/04/2019 1:45:26 PM

Where can I find purohit in Bangalore to perform bhoomi puja in telugu language?

sowbhagya17/04/2019 3:17:26 AM

boomipooja

Bhanu Sri Kondaveeti23/04/2019 3:22:14 PM

Bhoomipooja ki anuvaina rojulu

Ramesh23/04/2019 4:40:20 PM

Can an individual chant mantras and perform Bhoomi puja on his own. Or is it mandatory that it pooja has to be done by purohit and what would be the cost.?

Prema23/04/2019 4:44:22 PM

Will there be any difference in performing the puja from Kannada and Tamil people?

Siddappa23/04/2019 5:24:13 PM

How to do bhoomi pooja without priest

vijayakumari dalavai24/04/2019 6:04:57 PM

dob 1plz an early respo6 -5-1961 . planning to perform Boomi pooja on 26th april 2019. at 3.59 am. is this auspicious for us? my husband name is dr.p.nadamuni.plz requesting an early response . dr. vijayakumari tirupati

vijayakumari d24/04/2019 6:06:17 PM

my dob is 16 may 1961

Puja N Pujari29/04/2019 1:27:47 PM

Hello Vijayakumari Please call us on 9916344447, Our purohit can guide you on fixing a shubh muhurat.

Mangala c08/05/2019 2:18:37 PM

I want to do Bhoomi Pooja in the month may 2019. Pl send good date for this month

KANNAN. R15/05/2019 3:26:13 PM

I want to do Bhoomi pooja in the month June 2019 (04.06.2019). Please tell it is a good date since pattimugam is coming on that date.

Admin28/05/2019 2:42:54 PM

Hello Kannan, Please call us on +91 9916344447 to talk to ur pandits. They will check the dates and fix the muhurat. Team Puja N Pujari

pushpa 29/05/2019 1:05:09 PM

which are some auspicious dates to perform Bhoomi Puja in June-2019? we want to construct commercial building along with house next to it